Brewing
Extraordinary Ales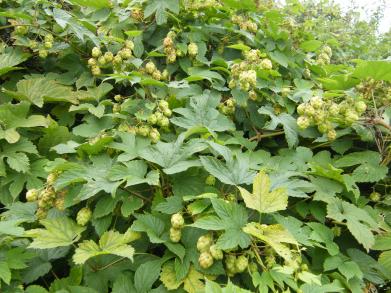 I have been working on a project to establish a versatile microbrewery somewhere near Cromer, to create extraordinary ales using local ingredients. I have joined the Cooperative of East Anglian Brewers and their 'Barley to Beer' project that is sourcing the very best of ingredients so that local brewers can create exciting beers that are full of flavour and character. I shall for instance use Maris Otter barley from Teddy Maufe's Branthill Farm on the Holkham Estate in North Norfolk. This is floor malted by traditional methods at Crisp's of Great Ryburgh near Fakenham. Using expressive yeasts and unusual adjuncts I plan to push the boundaries with every brew. Being small I'll be able to innovate and experiment, which means I can explore many styles and try new ingredients. Like wines, the beers are going to vary; some batches good, some brilliant. All will run out quickly because batches will be small but I hope you will want to try my next brew. And the next. Some of the most promising brews might be laid down like wine to see how their complexity develops.
View my brewing blog - Poppyland Brewer.
I hope to see you one day.

All the best,
Martin Warren, The Poppyland Brewer
Poppyland Brewery is open for business
See the new website for the new Poppyland Brewery at www.poppylandbeer.com/
The Poppyland Microbrewery
I found something suitable, only 25 metres from my front gate at Chesterfield Lodge. While Allen's Garages have been pulled down and are going to be developed for flats a small part had been retained. The old carriage entrance had been blocked up back and front and was just begging me to use it as a microbrewery. At only 377 square feet it was bijou, but it should be possible to brew and bottle successfully in this small compass. In fact, as I only ever intend to be a tiny brewery, I think it is ideal, as I can pop in and out as I please, fussing over things to produce really extraordinary ales. There were numerous hurdles to negotiate before I could say it was mine but the signs were encouraging.
For a start it had no drainage. There were two possibilities: route one is the short but expensive and disruptive route is to dig up the street and go straight in to the main sewer that runs down West Street. Route two was to drain to the rear and hook up with the drainage of the flats being developed on the rest of the old Allen's Garage site. Though Richard Dasely of Anchor Homes was extremely cooperative I chose to go in the direction of the street. Another technical issue was the ventillation. I had to vent steam from the brewing process, maybe once or twice a week. The favourite route was to use the redundant chimney that serves the bedroom of the flat above and then the steam will be discharged at the highest possible point above ground. Not everyone likes the smell of brewing although to many it is a delight (malt and hops are boiled for an hour, some special brews may take up to two hours, but that's all). But Adnams is a very big brewery and it never did Southwold any harm.
In May 2011 I took advantage of the shop window to publicise my presence and word has rapidly got around the town that a new brewery is in the offing. People were asking when there would be any beer. Well it has taken until now (August 2012) to complete the work but I am hoping to have it ready by September 2012. In the meantime I have been brewing with Brendan Moore at the Iceni Brewery and with John Bates of the Ole Slew Foot Brewery. We have beer.
MRW : 24.8.2012
Allen's Garage, 46 West Street, Cromer, Norfolk in April-June 2011

Try moving your mouse over the last image. Shall it come to pass?
Visiting the Poppyland Microbrewery at 46 West Street, Cromer, Norfolk NR27 9DS
We are not operational yet but when we are (perhaps September 2012 if you would like to visit, call me on my mobile 07887 389804 or make a booking by email: martin.warren[at]talktalk.net.
The Norfolk Coastal Cycleway passes right by the brewery. The sign is right outside - Great Yarmouth 39km, King's Lynn 59km Wighton 23km. So, why not round off a good day's riding with a wonderful beer from the Poppyland Brewery? There is a good cycle shop - Pedal Revolution Cromer - in West Street too.
The Bittern Line - Norfolk's pretty railway line connecting Norwich with the coast comes to Cromer. The train station is only 180m away.
The Coasthopper Bus runs the length of the North Norfolk coast. The bus station is only 130m away. If you are doing a pub crawl along the coast, why not visit the brewery too and pick up something to take home? Here is the timetable.
If you are coming to Cromer to do your shopping the brewery is only 180m down the hill from Morrison's supermarket and 200m out from the dead centre of Cromer. We are 140m from the Meadow Car Park and 350m from the beach. Next door but one is Ken's home brewing shop, Strange Brew; another reason to come to West Street.
Get a map of our location. Grid reference: TG 21635 42082