Geology Walks in North Norfolk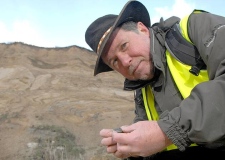 North Norfolk has a fascinating landscape and the Geology Walks at West Runton have established a strong public following over more than 20 years. Join one of Martin Warren's renowned Geology Walks and let your imagination rip as we journey back in time. This year there are two: the 'usual' one to the east of the car park and a longer ramble to the west towards Beeston.
Whatever the weather we shall find lots to interest us and due to the local microclimate - or is it the tides? - we are often miraculously blessed with fine weather on our geology walks.
There is no jargon, so the walks are suitable for everyone over 8 years old. We won't walk too far (1.1 km and back on Walk 1, 2.5 km on Walk 2) but we cover an enormous span of time and we will transport you to lost worlds that have been rediscovered through the wonders of geological science. Find out about our world of contrasts - variously a greenhouse world and an ice house world, with rising and falling sea-levels, waxing and waning forests. See the river deposits that tell us about the time when Norfolk was 'big game' country. See the glacial deposits from when Norfolk resembled the Arctic. Stand on an ancient sea bed. Find out how the lumps and bumps in the landscape came to be that way they are.
"Martin - just a quick note to thank you ever so much for your time yesterday. It was very much the 'icing on the cake' of a super weekend that we all had. It was a fascinating and truly interesting talk/walk and the cubs (and the leaders!) enjoyed it immensely, and learnt so much too! Thank you once again and I hope our paths cross again. I will forward your details (and our testimonial) onto other clubs in the area." Chill, 1st Foxton Cubs
Walk 1: Eastern walk on West Runton beach to Wood Hill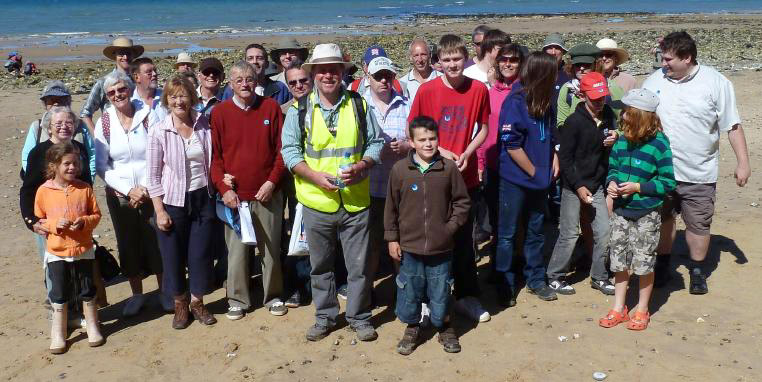 We don't walk too far (1.1 km and back) but we shall journey through 13.7 billion years of geological time, following a timeline along the beach from the Big Bang to the present day. You will appreciate how our dynamic world has changed and evolved, as illustrated by the rocks and fossils on West Runton beach. See yourself from a geological perspective. You can
gaze over Doggerland - a whole Mesolithic landscape, drowned 8000 years ago by the rising North Sea
imagine being under a giant Ice Age glacier 450,000 years ago,
examine the bed of a 70 million year-old subtropical sea, when dinosaurs were alive and
pay your respects at the grave of the 700,000 year-old West Runton elephant when Norfolk was 'big game' country.
There are lots of different rocks to see and stories to tell, including how flint was formed and the origin of those funny giant flints with a hole right through them. See the 18th century dated 'Sharman Cutler's Stone'. Have your finds identified. Put your questions to an expert.
There is a handout to accompany this walk.
Walk 2: Western ramble from West Runton beach to Beeston Bump
By way of a change for the 2013 season some of the walks will turn left and go on a longer ramble (3 miles) along the beach to Beeston Bump. Along the way we shall see the increasing style of deformation as we go westwards, interpreted as moving towards the edge of a giant icesheet. We shall also climb up the cliff (53 steps) and then up Beeston Hill, an ice age feature, and take in the vista of the Cromer Ridge, the highest topographic feature in the county Norfolk and another legacy of the Ice Age. Along the way she shall discuss glaciation, causes and effects; the Chalk and the formation of flint; the biodiversity of the near-shore 'Chalf reef'; Doggerland; far-travelled erratics; cliff erosion and more.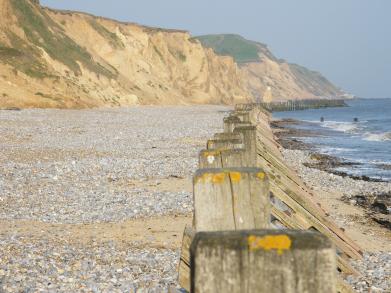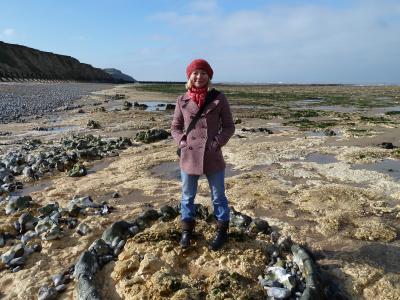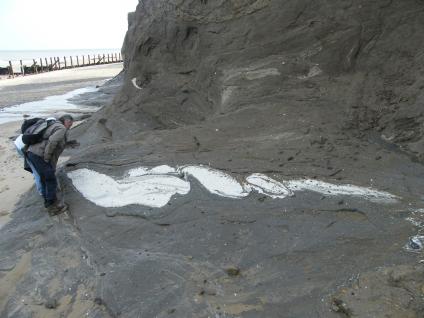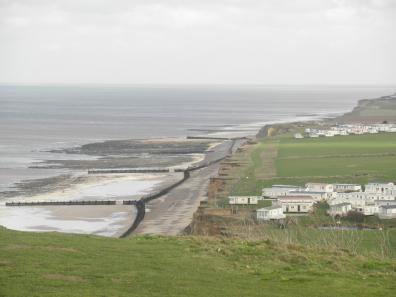 Geology Walks booking information 2013
| | | | | |
| --- | --- | --- | --- | --- |
| Date | Day | Walk no. | Description | Times |
| March 17 | Sun | 2 | West side ramble to Beeston Bump | 1.30pm-4pm |
| March 28 | Thu - Maundy Thursday | 1 | East side walk to Wood Hill | 1.30pm-4pm |
| March 31 | Sun - Easter Sunday | 2 | West side ramble to Beeston Bump | 1.30pm-4pm |
| April 12 | Fri | 1 | East side walk to Wood Hill | 1.30pm-4pm |
| April 28 | Sun | 2 | West side ramble to Beeston Bump | 1.30pm-4pm |
| May 10 | Fri | 1 | East side walk to Wood Hill | 1.30pm-4pm |
| June 9 | Sun | 1 | CANCELLED | |
| June 25 | Tue | 1 | East side walk to Wood Hill | 1.30pm-4pm |
| July 11 | Thu | 1 | East side walk to Wood Hill | 1.30pm-4pm |
| July 26 | Fri | 2 | West side ramble to Beeston Bump | 1.30pm-4pm |
| August 8 | Thu | 1 | East side walk to Wood Hill | 1.30pm-4pm |
| August 22 | Thu | 2 | West side ramble to Beeston Bump | 1.30pm-4pm |
| September 8 | Sun | 1 | East side walk to Wood Hill | 1.30pm-4pm |
| October 20 | Sun | 1 | East side walk to Wood Hill | 1.30pm-4pm |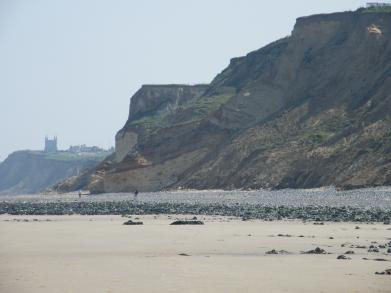 Geology Walks begin at 1.30pm (except the Autumn Half Term walk which starts at 10.30am) and last approximately two and a half hours. Please assemble in the car park at West Runton Beach. at 1.15. The car park proprietor levies a small charge in the season. If there is no attendant, please purchase a parking ticket at the Seaview Cafe.
Please come adequately dressed. The beach is rocky and wet in places, so please wear boots or at least very stout shoes. Wellies are excellent, so you can walk anywhere with impunity. Wear clothing suitable for any weather (be that rain, wind or shine), waterproofs, a hat is always a good idea and a brolly is really cool if rain is forecast (you stay dry while all around are getting damp). Do bring some refreshment or a bottle of water as the walk lasts two and a half hours or more. Do wrap up well; some people come without adequate coats and hats. It can be chilly on the beach, even in summer and we want you to enjoy yourself, not shiver. In our experience dogs just don't understand the geology, and there are often other dogs on the beach to get them excited, so it's probably best not to bring them.
Booking
Tickets are purchased on the day, £4.50 adults, £3.00 children. Booking is important.
Please call The Northfolk Project to book your place, on these numbers

01263 513992 or mobile 07887 389804

and tell us the date, how many places and your telephone number or email address. Or you can book a place by email on
martin.warren[at]talktalk.net
Group bookings
Geological societies, special interest groups, schools and colleges: do you need a leader for a field trip? Contact me to discuss your requirements. I can design itineraries, arrange accommodation and organise transport.
Here is a report from the Leicester Literary and Philosophical Society (Section 'C' - Geology).
Another report from Aylsham Wildlife Group.
Would you like a poster? Could you display one please? Click image to download.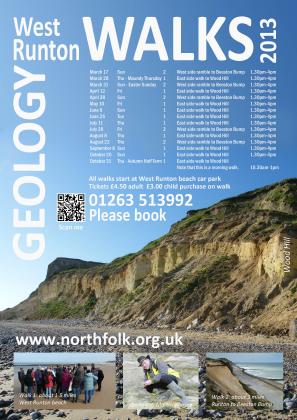 Handouts in colour
Click on the images to download colour versions of the handouts provided on the walks. These are in printable PDF format (for non-commercial use only).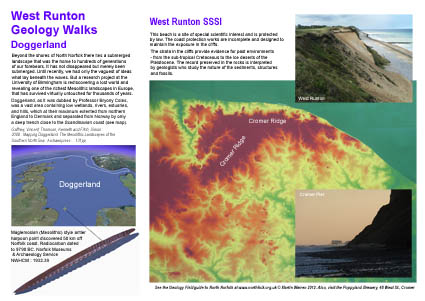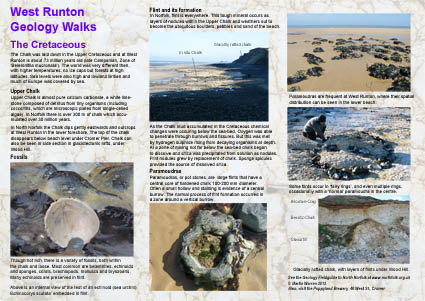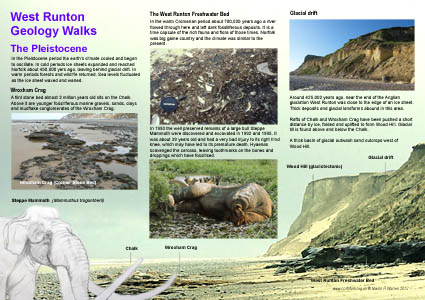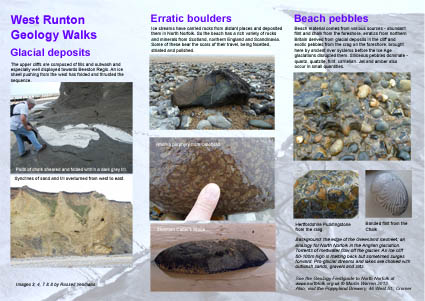 Follow up or preview
Visit the West Runton - East Runton page in my Fieldguide to North Norfolk to make a virtual visit to West Runton either to preview a walk or to recap when you get home.

Newspaper articles online
Eastern Daily Press, EDP Sunday, Saturday 2 July 2011: West Runton Geology Walks photo gallery
Eastern Daily Press, Wednesday 29 June 2011: Step back in time at West Runton.
North Norfolk News, Thursday 17 February 2011: Ancient creatures in your living room

Free downloads
Chalk Around Cromer (pdf - 166kB)
Cromer Forest Bed (pdf - 196kB)
Flint around Cromer (pdf - 170kB)
Live webcam: tide and weather at Cromer
Geological Society of Norfolk
Monthly meetings - field trips in the summer, indoor meetings in the winter. For amateurs and professionals alike. If you enjoy geology, join the Geological Society of Norfolk. Website: www.norfolkgeology.co.uk
Geodiversity
For a very good overview of the geological riches that we have to celebrate in Norfolk, see this PDF document: Norfolk's Earth Heritage - valuing our geodiversity
See also: UK Fossils website.
Coastal erosion
North Norfolk District Council produces resources for researchers and students on the topics of coastal erosion and coastal management:
NNDC Education page