Geology Walks - Explorers welcome
Come and explore North Norfolk's Deep History Coast. We have beautiful landscapes, exciting coastal geology and many amazing stories to tell. Join one of Martin Warren's renowned Geology Walks and let your imagination rip as we journey back in time.
Whatever the weather we shall find lots to interest us and due to the local microclimate - or is it the tides? - we are often miraculously blessed with fine weather on our geology walks.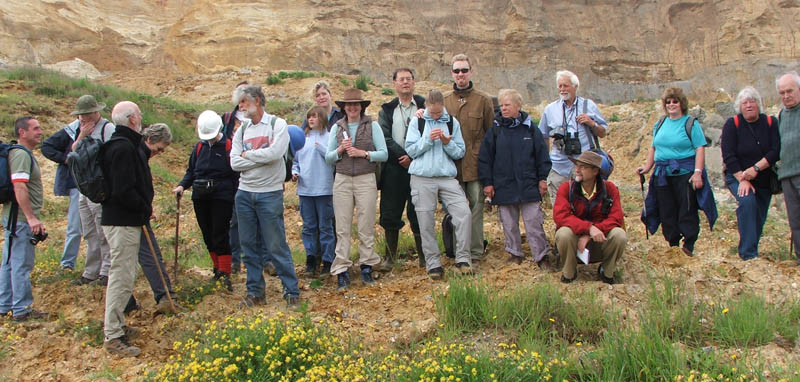 There will be as little jargon as possible, so the walks are suitable for everyone over 8 years old. There is a mix of distances and challenges too but none are really taxing for reasonably fit people. We cover an enormous span of time and we will transport you to lost worlds that have been rediscovered through the wonders of geological science. Find out about our world of contrasts - variously, a greenhouse world and an ice house world, with rising and falling sea-levels, waxing and waning forests and ice-sheets. See the river deposits that tell us about the time when Norfolk was 'big game' country. See the glacial deposits from when Norfolk resembled the Arctic. Stand on an ancient sea bed. Find out how the lumps and bumps in the landscape came to be the way they are.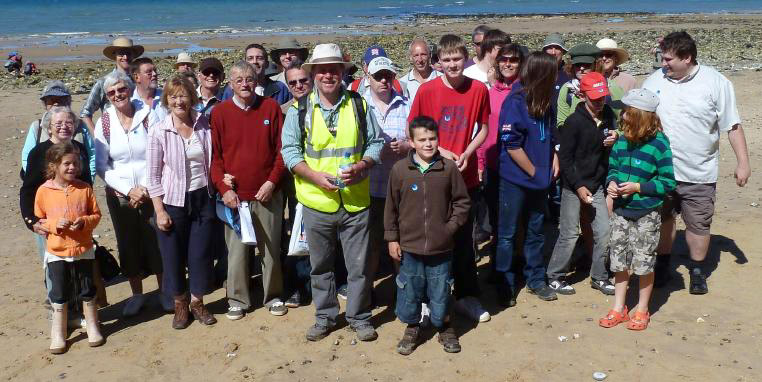 Children over 8 are welcome but don't let that put adults off; there are seldom a lot of children and they are always well behaved.
Geology Walks in 2019 (click on links for details)
These dates are provisional and should be confirmed when you make a booking. This listing is the definitive. Listings by third parties may contain errors and omissions, so please beware. Cancellations and alterations will be announced here first.
Follow me on Twitter
Keep up to date with news from the coast and announcements about Geology Walks on Twitter. Search for @cliff_bunny and follow me.
Booking is important
Tickets are paid for on the day:
Geology Walks £6.00 adults, £3.00 children and includes a b/w handout (which you can download in colour from this site).
Booking is essential to help me gauge the size of audience, number of handouts, whether a helper is needed for safety and so on.
Please email to book your place (using the links above), or for last minute Geology Walk bookings you may call

01263 513992 (or mobile 07887 389804)

and tell us your name, the date of the walk, how many walkers and your mobile number and email address. Your mobile number is only used to contact you in case of a last minute problem or cancellation.
Clothing
Please come adequately dressed. It's really important that you are well prepared for whatever the weather may bring. Bring extra clothing, just in case.
The beach is rocky and wet in places, so please:
Wear boots or at least very stout shoes. Wellies are excellent, so you can walk anywhere with impunity.
Wear clothing suitable for any weather (be that rain, wind or shine), waterproofs, a hat is always a good idea and an umbrella is really cool if rain is forecast (you stay dry while all around are getting damp).
Do bring some refreshment: sweets and/or a bottle of water as the walks last two and a half hours or more.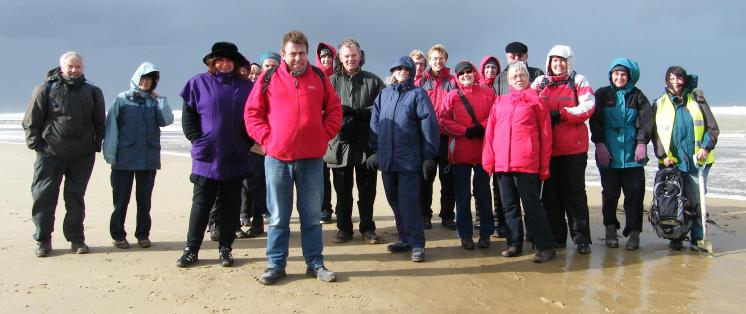 Do wrap up well; some people come without adequate coats and hats. It can be cooler on the beach than you think, even in summer and we want you to enjoy yourself, not shiver.
Inclement weather
While the walks have a really remarkable record of getting fine weather, there is always the chance of a really bad day. I work on the principal that there is no such thing as bad weather, only inadequate clothing. We can still have fun, even in the rain. But if it really is that bad we can take a vote on what to do. In the event of bad weather the leader will always turn up at the starting point.
Dogs
I love dogs but in my experience dogs don't understand the geology. They get bored and there are often other dogs on the beach to get them excited. Then they bark and I can't compete, so I recommend you don't bring them on Geology Walks.
Group bookings
Geological societies, special interest groups, schools and colleges: do you need a leader for a field trip? Contact me to discuss your requirements. I can design itineraries, help find accommodation and organise transport.
Handouts in colour
Click on the images to download colour versions of the handouts provided on the walks. These are in printable PDF format (for non-commercial use only).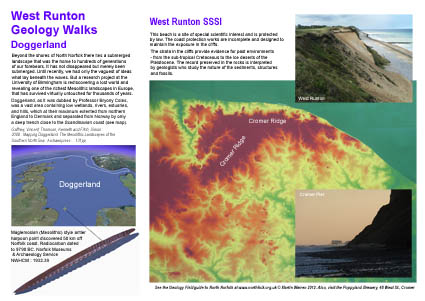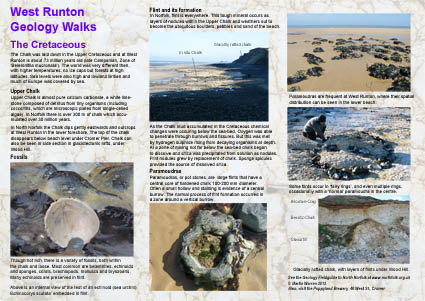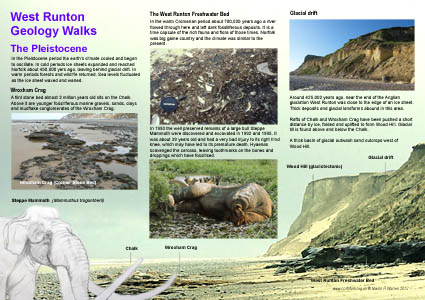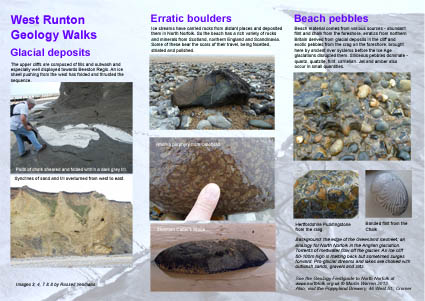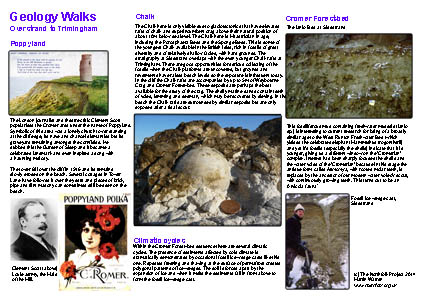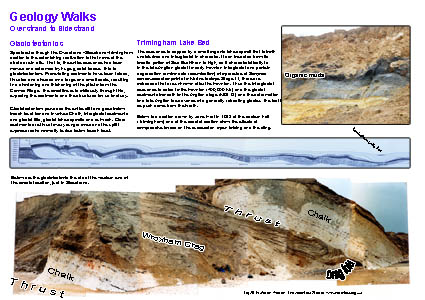 Follow up or preview
Visit the Field Guide to North Norfolk Geology to make a virtual visit to either preview a walk or to recap when you get home.
Free downloads
Simple A4 handouts by Martin Warren
Chalk Around Cromer (pdf - 166kB)
Cromer Forest Bed (pdf - 196kB)
Flint around Cromer (pdf - 170kB)
Tide times at Cromer
The Geological Walks programme is timed to coincide with the most favourable tides, that is on or just after a full moon or new moon. At these times tidal range is at its maximum (some are bigger than others) and high water will be around 8 o'clock in the morning. Therefore low tide will occur in the afternoons, ideal for our walks. You can check the tide times at Cromer for today and the next few days at this link
Norfolk Fossil Finds
To help people identify their fossil finds from Norfolk beaches and elsewhere there is a public Facebook group 'Norfolk fossil finds', where you can join up (for free) and post images of your specimens and other members of the group will offer opinions on their identity.
See: Norfolk fossil finds Facebook page
Geological Society of Norfolk
Monthly meetings - field trips in the summer, indoor meetings in the winter. For amateurs and professionals alike. If you enjoy geology, join the Geological Society of Norfolk. Website: www.norfolkgeology.co.uk
Area of Outstanding Natural Beauty (AONB)
Tim Holt-Wilson has produced some very accessible guides to the Geological Landscapes of the Norfolk Coast
See also: UK Fossils website.