Geology Walk 3: Overstrand to Sidestrand: cross-section through the Cromer Ridge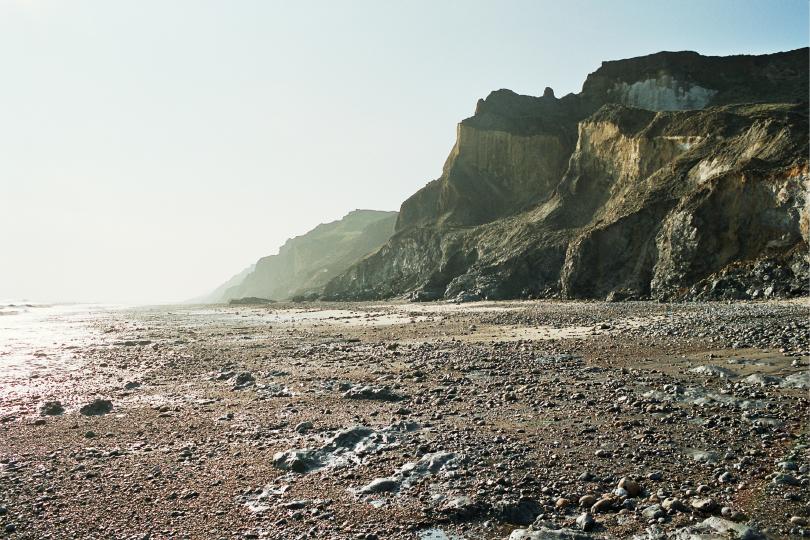 Walk 3: Overstrand-Sidestrand coastal section
Recent changes to the beach access east of Overstrand mean it is now feasible to offer a more challenging walk to see the spectacular cliff section along the Sidestrand and Trimingham coast. Be warned, there are no facilities, no toilets, poor telecommunications and the cliffs are steep and high. If you have health issues such as difficulty walking or climbing, this walk isn't for you. But if you are able, this is perhaps the most rewarding geological section on the Norfolk coast. Expect to see nature in the raw as the sea cuts through the Cromer Ridge, exposing glaciotectonic Chalk rafts, folded glacial lake sediments, tills and outwash. There are also the Cromer Forest-bed and Wroxham Crag and the White Chalk in the shore platform and diverse beach material to search. The overall length of the walk is 3.20 miles (5.04 km) for the round trip and the cliff is 50m high; we park at the top and walk down a roadway. We are more exposed to the elements here, so it is especially important to wear the correct clothing and as there may be deep pubbles to negotiate wear waterproof footwear please.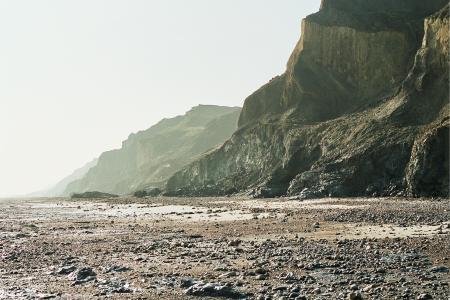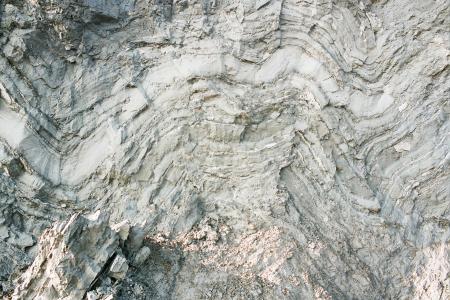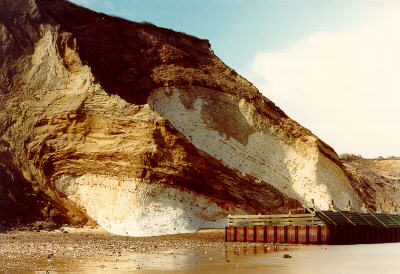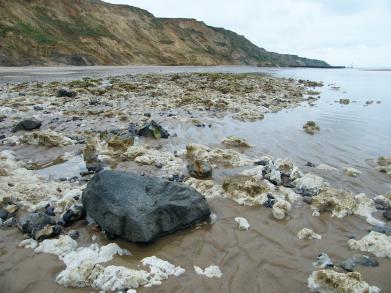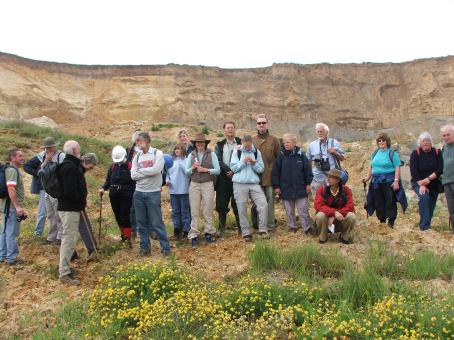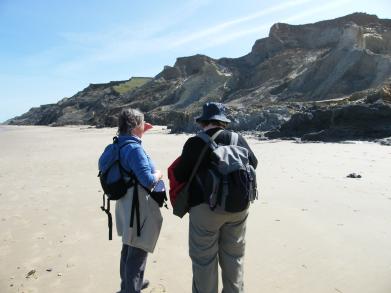 For meeting point SEE THE SECTION BELOW. There is a b/w handout to accompany this walk (download in colour available below). Here is a link to the field guide for the Overstrand-Sidestrand section if you want a preview of the geology. Note that advice in the field guide about parking is not the meeting point for Geology Walks; we meet on the clifftop in Clifton Way, Overstrand.
Geology Walks: dates for Walk 3 from Overstrand to Sidestrand in 2018
These dates are provisional and should be confirmed when you make a booking. In the event of bad weather the leader will always turn up at the starting point.
Tickets and booking
Tickets are purchased on the day, £6.00 adults, £3.00 children and includes a b/w handout (which you can download in colour from this site). Booking is important.

Please use the email links in the table listing above to book your place (preferred method),
or for last minute bookings call

01263 513992 (or mobile 07887 389804)

and tell us your name, the date of the walk, how many walkers and your mobile number and email address. Your mobile number is only used to contact you in case of a last minute problem.
See below for the meeting place.
Clothing
Please come adequately dressed. It's really important that you are well prepared.
The beach is rocky and wet in places, so please:
Wear boots or at least very stout shoes. Wellies are excellent, so you can walk anywhere with impunity.
Wear clothing suitable for any weather (be that rain, wind or shine), waterproofs, a hat is always a good idea and an umbrella is really cool if rain is forecast (you stay dry while all around are getting damp).
Do bring some refreshment: sweets and/or a bottle of water as the walk lasts two and a half hours or more.
Do wrap up well; some people come without adequate coats and hats. It can be chilly on the beach, even in summer and we want you to enjoy yourself, not shiver.
Inclement weather
While the walks have a really remarkable record of getting fine weather, there is always the chance of a really bad day. I work on the principal that there is no such thing as bad weather, only inadequate clothing. We can still have fun, even in the rain. But if it really is that bad we can take a vote on what to do. In the event of bad weather the leader will always turn up at the starting point.
Dogs
I love dogs but in my experience they don't understand geology. They can get bored and there are often other dogs on the beach to get them excited. Then they bark and I can't compete, so I recommend you don't bring them.
Overstrand meeting place (Overstrand-Sidestrand walk)
For the Overstrand-Sidestrand Walk the meeting point is on the cliff top, in Clifton Way at the east of Overstrand, NR27 0NG (grid reference TG25264056). Turn off the Mundesley Road into Coast Road and this leads to Clifton Way. There is parking on Clifton Way or you could use the large car park in Paul's Lane on the west side of Overstrand (top left corner of image below) and walk along High Street, passing on to a footpath on the clifftop to reach to meeting point. Come at 1.15 for a 1.30pm start. There is an excellent
Cliff Top Cafe
in Cliff Road, Overstrand for a bite to eat beforehand.