Geology Walk 5: East Runton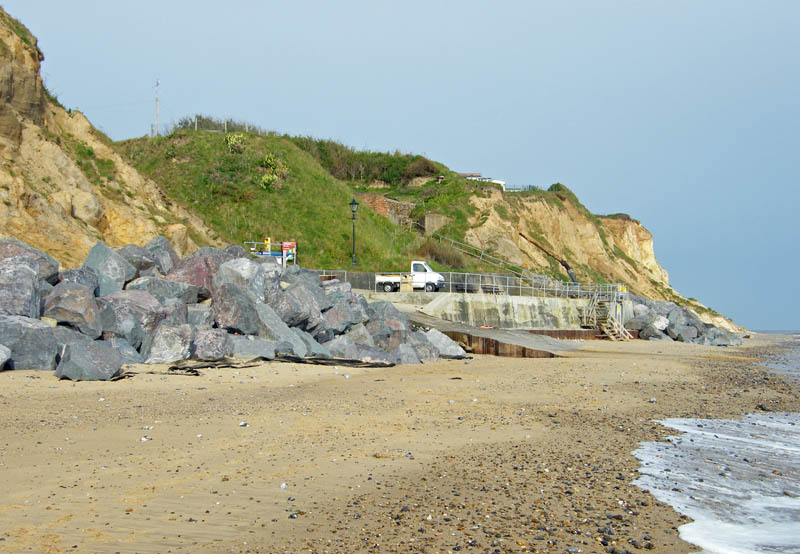 Geology Walks: dates for Walk 5 at East Runton in 2017
There are no public Geology Walks planned to East Runton in 2017 but private parties can be catered for on request, or you could suggest it be added to the public programme again next year.
Walk 5: East Runton
Here within a very small compass we can see the legacy of an Ice Age and a volcano. Yes, that's right. A volcano. Either side of the gangway are large rocks used as armour to protect the seawall against undermining by the sea. They come from Bardon Hill Quarry in Leicestershire and they are 'volcaniclastic'. That is, they are the remnants of an ancient island volcano and the interaction of hot magma with soft marine sediments rather like the Caribbean island of Montserrat today. I can get quite carried away interpreting those blocks. Somebody stop me! Then there is a fascinating section under Wood Hill where some detailed observation can help us understand the processed going on beneath glaciers as they deform their beds - and shaped the landscape of North Norfolk in doing so.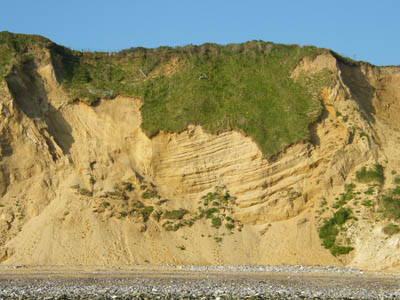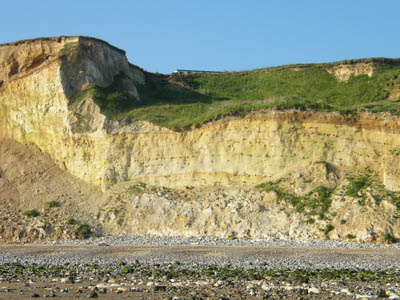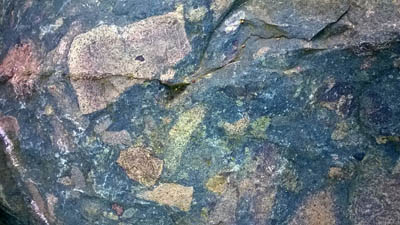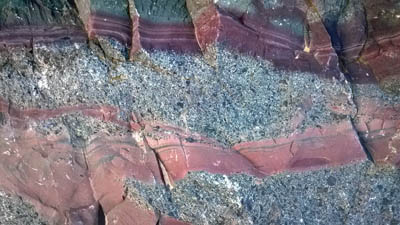 For meeting point SEE THE SECTION BELOW. There is a b/w handout to accompany this walk (download in colour available below). Here is a link to the field guide for the Happisburgh section if you want a preview of the geology. Note that advice in the field guide about parking may not be the meeting point for this Geology Walk.
Tickets and booking
Tickets are purchased on the day, £5.00 adults, £3.00 children and includes a b/w handout (which you can download in colour from this site). Booking is important.
Please email The Northfolk Project to book your place (preferred method), or call

01263 513992 (or mobile 07887 389804)

and tell us your name, the date of the walk, how many walkers and your mobile, telephone number or email address. Your mobile number is really handy to contact you in case of a last minute problem.
See below for the meeting place.
Clothing
Please come adequately dressed. It's really important that you are well prepared.
The beach is rocky and wet in places, so please:
Wear boots or at least very stout shoes. Wellies are excellent, so you can walk anywhere with impunity.
Wear clothing suitable for any weather (be that rain, wind or shine), waterproofs, a hat is always a good idea and an umbrella is really cool if rain is forecast (you stay dry while all around are getting damp).
Do bring some refreshment: sweets and/or a bottle of water as the walk lasts two and a half hours or more.
Do wrap up well; some people come without adequate coats and hats. It can be chilly on the beach, even in summer and we want you to enjoy yourself, not shiver.
Inclement weather
While the walks have a really remarkable record of getting fine weather, there is always the chance of a really bad day. I work on the principal that there is no such thing as bad weather, only inadequate clothing. We can still have fun, even in the rain. But if it really is that bad we can take a vote on what to do. In the event of bad weather the leader will always turn up at the starting point.
Dogs
I love dogs but in my experience they don't understand geology. They can get bored and there are often other dogs on the beach to get them excited. Then they bark and I can't compete, so I recommend you don't bring them.
East Runton meeting place
For the East Runton Walk the meeting point is in the cliff top car park (by pay and display machine) in Beach Road, East Runton NR27 9PA (grid reference TG20064271). Come at 1.15 for a 1.30pm start. There are two pubs in the High Street if you need lunch beforehand or a pint afterwards.