Poppyland Brewery has changed hands
I have great pleasure in announcing that the Poppyland Brewery continues under new ownership from 1 February 2019. Poppyland's many fans were disappointed to hear that the award winning beers would no longer be available when I retired from brewing in January but by yet another great stroke of luck just the right fellow has come forward to take it on. Dave Cornell has a second home in Cromer not far from the brewery and in retirement is moving up here permanently from his original home in Stevenage Old Town (we used to drink in the same pub in the 1970s but didn't know each other then). It is early days but he is keen to continue the same diverse style of brewing under the same Poppyland name and I will be working with him to guide and support him in his endeavours. While not yet a professional brewer his interests in restoring old motorcycles and bee-keeping suggest he has excellent transferable skills for a quirky microbrewer. And it is worth mentioning that his brother is Martyn Cornell, the renowned beer and brewing historian, author and avid blogger (see Zythophile).
I look forward to seeing the brewery reinvigorated and say "Cheers Dave and All the Best for 2019. Further adventures in beer start here! I hope you enjoy yourself as much as I have."

Martin Warren : 1.2.2018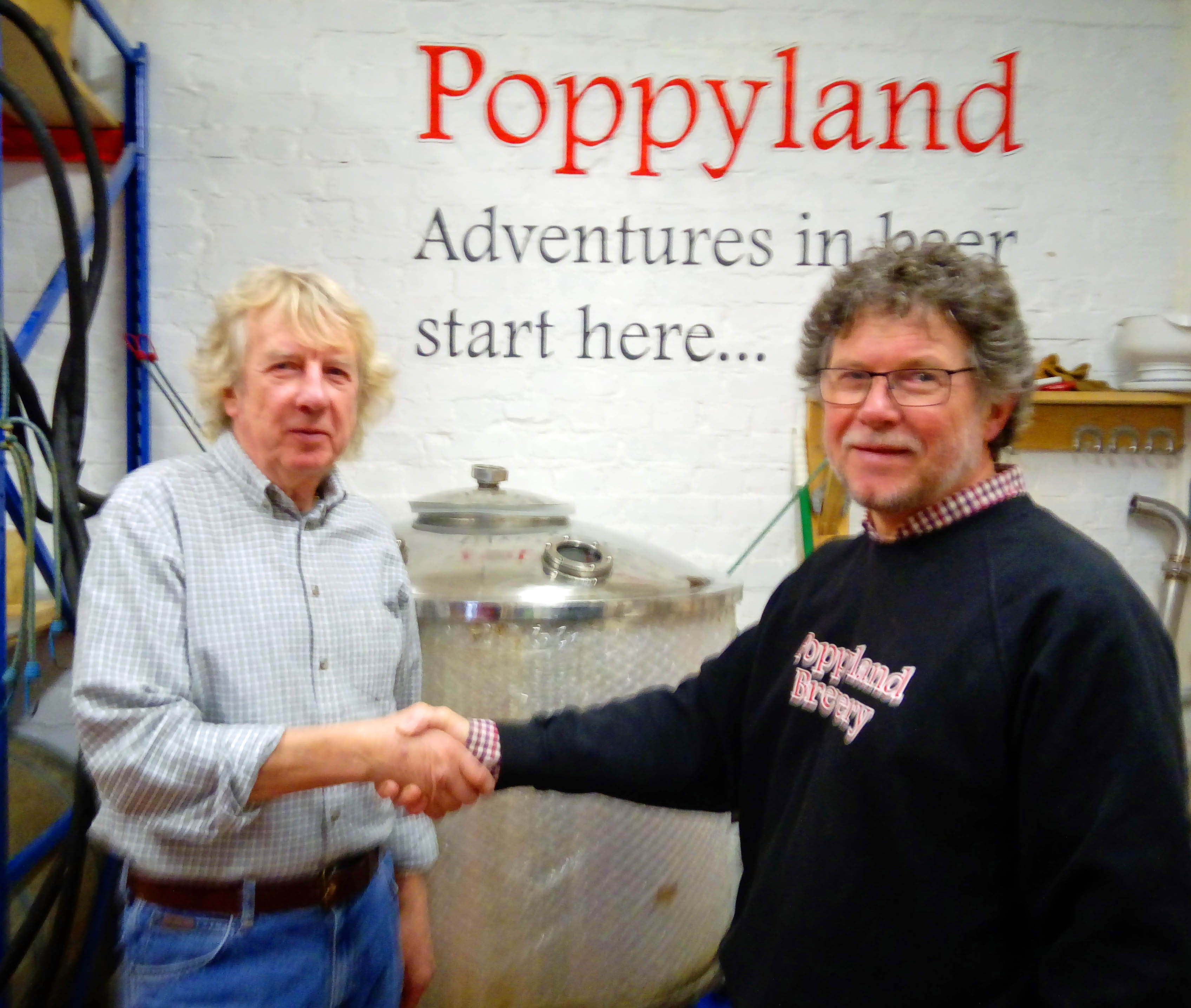 Cromer's very own microbrewery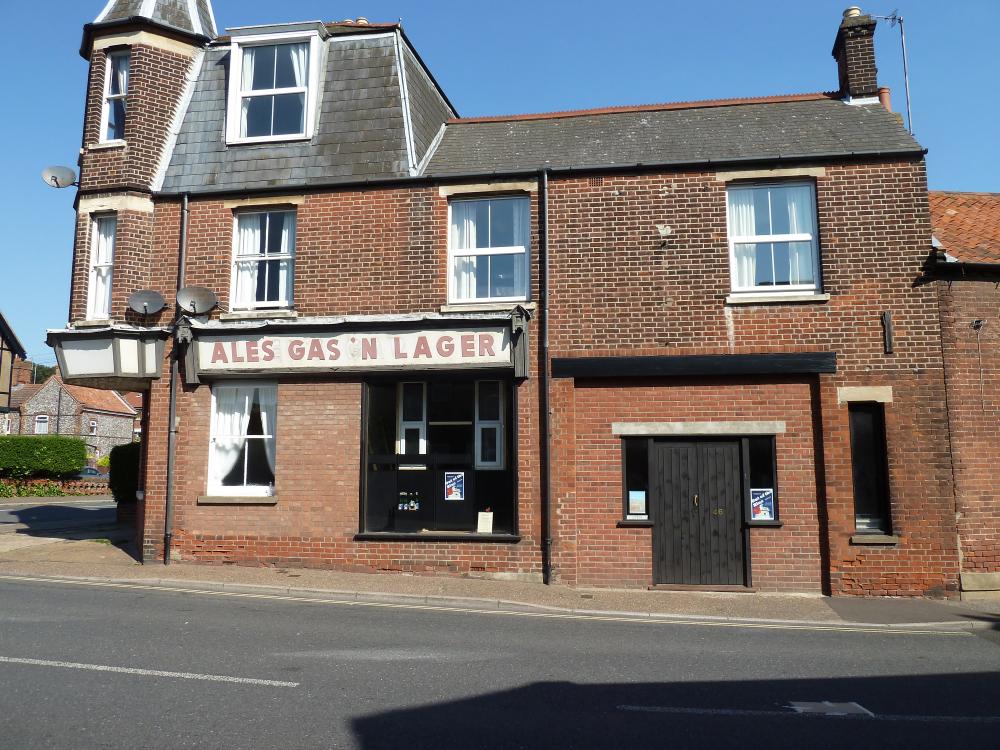 Now in its seventh year of operation Poppyland Brewery has gained a reputation for doing different. For me, Martin Warren the Poppyland Brewer, it has been a challenge in semi-retirement, a means of self expression and it helped to satisfy my creative instincts. It made a small living too. As an ex-museum curator I couldn't help myself from revelling in the character and culture of North Norfolk and I reflected this in my beers. I have produced extraordinary ales that were far removed from industrial beer found in supermarkets or even beer found in British pubs. I have been exploring just what beer can be, using the best ingredients and new techniques, seeking to innovate and aiming to really please my customers. I often drew inspiration from the local environment and local history. Where I could I used local ingredients - wild and cultivated. Where I couldn't, I got the best ingredients from all over the world - like hops and yeasts. I didn't want people to say, Mmm, that's okay. I wanted them to say Wow! That's amazing!

Being a very small business I have been able to brew small batches of different beer all the time, always creating great new flavours. This meant that stocks would quickly run out but people appreciated the uniqueness, quality and depth of flavours that I developed when hand crafting beer. I hope you will be eager to try the next production, as every batch is unique and explores another facet of the multidimensional beer map.

At this scale you can't compete on price. Sometimes you go to great lengths to create a beer, travelling far and wide to gain experience, knowledge and ingredients. We give you flavour and hand crafted quality. Our beers may appear expensive but they deliver greater impact and satisfaction than ordinary beers, so they do represent value for money. See the warm appreciation of our customers. Our beers have character. We am sure you will remember these beers and talk about them with your friends. A bottle should entertain you for quite a while. It's not just for quaffing. You drink less for greater satisfaction. If you can't manage to drink it all in one sitting, you will be pleasantly surprised to find that an opened bottle will keep a day or more on a cool shelf (pop the cap back on to keep the fruit flies out) and it will drink much the same as when freshly opened, just with a bit less condition (like a draft beer); not at all flat and tasteless as other beers may be.
Situated between Cromer town centre and the railway station, housed in a former motor garage, Poppyland Brewery is where we brew extraordinary ales - bottled Saisons, IPAs, porters, fruit beers and more. Belgian- and American-inspired, these beers are unusual, often with extravagant ingredients, fascinating flavours and aromas. These beers are not in the mainstream. Every brew is exploring just what beers can be.
Visitors are welcome.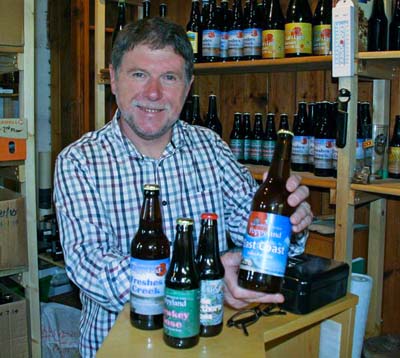 You are welcome to come and look inside, see how beer is made, have a chat and maybe buy some beer. Knock at the brewery door, or call at Chesterfield Lodge a few steps up the road (just out of picture, to the left) or ring me on 07887 389 804.
Why "Poppyland"?
In 1883 theatre critic and poet Clement Scott visited Cromer and was captivated by its charms. He described this part of the East Coast in his column in the Daily Telegraph and he named it Poppyland. The romantic notion and the flamboyant image of poppies helped to popularise the developing seaside resort. To learn more please visit the Poppyland Publishing (not related) Youtube clip. When I knew that I was going to establish a brewery near my house in Cromer it seemed like an obvious choice. It worked for the Victorians, so why not for me? Also, watch the BBC feature film "Poppyland" starring Alan Howard and Phoebe Nicholls here.
Cheers

Martin Warren, The Poppyland Brewer
Here's a review of Poppyland Brewery and beers from Pints and Pubs.
Great brewery profile and beer reviews from Rob Derbyshire of Hopzine.
What's in stock?
Recent brews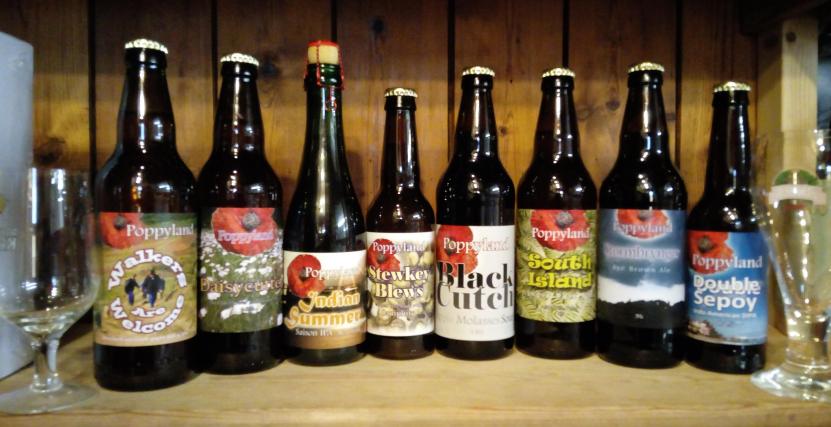 Coming soon:
Look out for Tragic Empress barrel-aged later in 2019
Who knows what Poppyland will be up to in the near future? Watch this space.
Latest News
Video: 'Walkers Are Welcome Beer - The Brewer's Tale' by Siri Taylor
I made a beer for Cromer's Walkers Are Welcome initiative and Siri Taylor is not only one of the organisers but she is also a professional film maker. She very kindly came along on brew day and again on a bottling day to create this short (6 minute 20 second) video (painstakingly edited down from the hour and a half of video footage that was shot).
Poppyland is Champion again!
Poppyland received 5 awards at the 2017 CAMRA Beer Awards at a gala evening in Epic Television Studios, Norwich. Brewer Martin Warren consolidated his reputation as one of Norfolk's top brewers with a one-year-barrel-aged 9.6% imperial porter named Tragic Empress to take Gold in the Porter and Stout Category while the ever popular 6.5% East Coast IPA took Gold in the Strong Bitter Category. Both beers so impressed the judges that they competed against each other in the Overall Winner Category, with Tragic Empress taking Gold and East Coast IPA the Silver. The Bronze went to Humpty Dumpty's Imperial Russian Stout. It was also a great thrill to receive a certificate for Poppyland Stormbrynger, a 6.5% brown rye IPA, that took First place in the Strong Bitter/IPA Category of the 39th Norwich Beer Festival, held last October.
Poppyland was also Overall Winner in the Bottled Beer of Norfolk competition in 2016 with Home by Christmas (Unique Category), Silver for Elderflower Saison (Speciality Category) and East Coast IPA (Strong Bitter Category) and a Bronze for Ten Thousand Geese (Stout and Porter Category).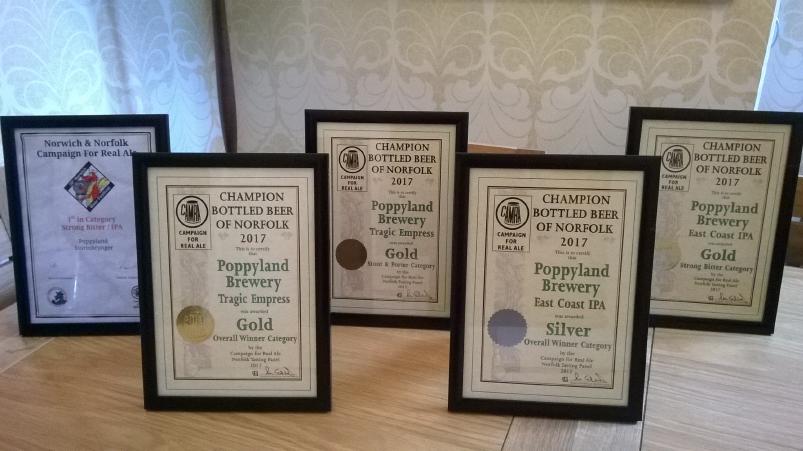 Poppyland in Sheringham
The Giddy Goat is a new shop selling mainly Norfolk real ales and cider, situated at 2 The Courtyard, Station Road, Sheringham. Ring John Morgan to check their stock of Poppyland beers on 01263 478600 or mobile 07786 288916. (October 2016)
New books feature Poppyland beers
Poppyland Brewer blog goes viral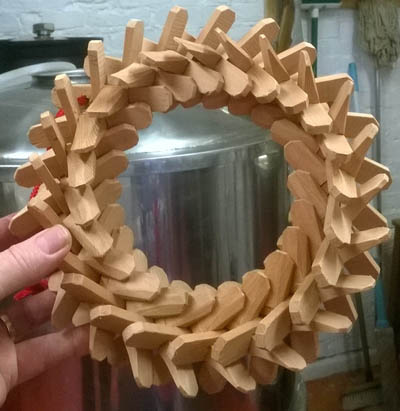 After my trip to Norway I decided to make a yeast ring and because it aroused a lot of interest in Twitter so I wrote it up as a blog on why and how I made it. After Lars Marius Garshol put a link to it onto Reddit the number of visitors soared and in the first week of January there were over 17,500 views. I've never known anything like it.
Open Brewery
Come to the brewery on most days. You should be able to have a look around, see the brewing kit and talk to Martin Warren, the Poppyland Brewer. You can also buy beer any day of the week (7am-11pm). Just call at my house (Chesterfield Lodge, West Street) near the brewery or ring 07887 389804 and I will be pleased to serve you.
Gluten-free policy
After an initial trial for 18 months when all Poppyland beers were gluten free I have decided that the cost of testing can't be sustained on such small batches as Poppyland produces. Furthermore, Poppyland sometimes makes very unusual (possibly challenging) beers, which are designed to tickle the palates of adventurous drinkers but which are perhaps just too much for the more moderate and cautious palates of coeliacs and gluten intolerant people. So from 2016 onwards only a proportion of the output will be gluten free and those will tend to be the lighter and less challenging brews. I will endeavour to maintain at least one beer, if not more, in stock that is gluten free. I will nevertheless still be exploring what beer can be, even for gluten free beers.
Some Poppyland beers are rendered gluten free by treating the wort during fermentation with Brewers Clarex. This product is commonly used to reduce 'chill haze'. It contains an enzyme (a Proline specific endo-protease) that cleaves the long gluten molecules into their constituent peptides. It requires only a small dose and does not affect the drinking or other qualities of the beer but it does render the beer 'gluten-free', that is, less than 20 parts per million gluten. Every batch is tested with an competitive ELISA assay by an independent laboratory to verify that it is below the internationally recognised threshold of 20ppm and the results are posted on the web page for that beer. It is hoped that customers who suffer with gluten-related problems will enjoy these beers, even though they are made from 'normal' ingredients including barley and wheat. Those with especially serious sensitivity are advised to 'proceed with caution' until they are satisfied that it is safe for them to do so.
To re-iterate, these beers do not compromise on flavour or ingredients. They are same beer I would brew anyway. I simply render them gluten free with an enzyme. Maybe more brewers could do that.
Also see my Blog
Poppyland around the World
Gerry and Katrin Jonsson drinking one of my
early beers at home on the volcanic island
of Heimay, Vestmannaeyjar, Iceland.
Son Mark Crayford took Poppyland beer to Brazil.
Poppyland beer has gone back with customers to their homes
in Denver, Colorado and Brooklyn, New York.
Follow me
Have a look at my Northfolk Project website to see what else I am up to, including Geology Walks in North Norfolk, or visit my blog. You can also see me on Facebook and Twitter (@cliff_bunny and @poppylandbeer).
Cheers. Talk to you soon...

Martin
Visiting the Poppyland Microbrewery at 46 West Street, Cromer, Norfolk NR27 9DS
If you would like to visit, call me on my mobile 07887 389804 or make a booking by email: martin.warren[at]talktalk.net.
The Bittern Line - Norfolk's pretty railway line connecting Norwich with the coast comes to Cromer. The train station is only 180 metres away.
If you are coming to Cromer to do your shopping the brewery is only 180m down the hill from Morrison's supermarket and 200m out from the dead centre of Cromer. We are 140m from the Meadow Car Park and 350m from the beach.
Get a map of our location. Grid reference: TG 21635 42082
Funding
The majority of financial investment in the business is my own but I am very grateful for training and continuing support and advice from the Barley to Beer Project which is led by Brendan Moore of the East Anglian Brewers Cooperative. The Barley to Beer Project receives financial support from the Rural Development Programme for England (RDPE). The Rural Development Programme for England (RDPE) is funded by Defra and the EU.