Norfolk gansey patterns
Sheringham

Sheringham is renowned for many extremely fine gansey patterns (in both senses of the word 'fine').
---
Click on a record number to see full record (use Back button to return to this page). Click on an image to see a large image in your default image viewer. Click on pattern thumbnail to download a pdf of the pattern (requires Acrobat Reader).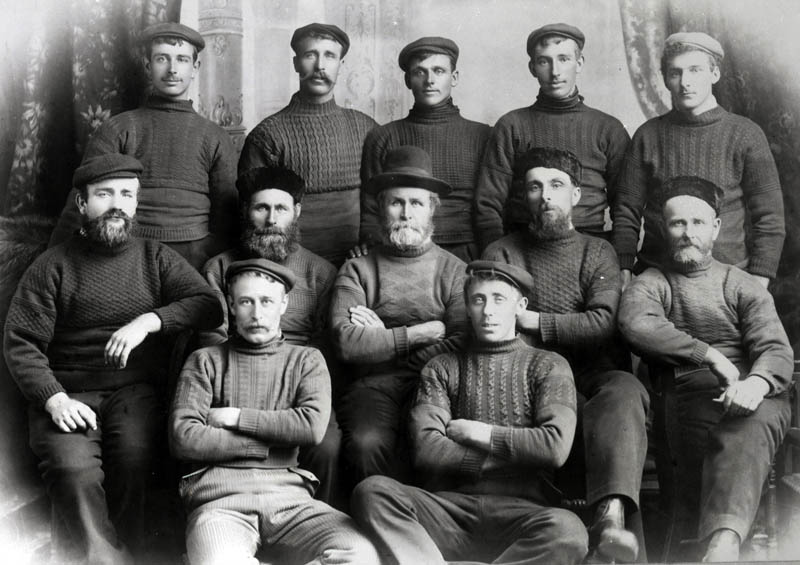 Above is a superb studio photograph by Hellis and Sons, a firm of London photographers who had studios around the country. It shows twelve Sheringham fishermen round about 1900 to 1910 apparently at the studios in the fishing port Great Grimsby in Lincolnshire. It seesm to represent the crews of several 'great boats' from Sheringham who would go there 'in the season' to land their catch. Numbers mentioned below are from back row left to front row right. The machine made gansey #2 could have been purchased at the Cosalt depot in Beeston Road but the others are hand knitted. Are they all Sheringham-made ganseys or were some purchased from commercial knitters? For example GP58 and GP59 do not appear typical of Sheringham and even the netmasks GP57 and GP60 are generic.

GP52
Sheringham fisherman #1 Jack Martins' net mask and herringbone gansey
Sheringham
1900 (c)
GP53
Sheringham fisherman #2 George "Salter" Farrow's machine made gansey
Sheringham
1900 (c)
No chart
GP54
Sheringham fisherman #3 Billy West's double meshes and hailstones gansey
Sheringham
1900 (c)
GP55
Sheringham fisherman #4 (a Little?) bars and hailstones gansey
Sheringham
1900 (c)
GP56
Sheringham fisherman #5 lightning and hailstones gansey
Sheringham
1900 (c)
GP57
Sheringham fisherman #6 "Alma" West's net mask gansey
Sheringham
1900 - 1910 (c)
GP58
Sheringham fisherman #7 Potter Hardingham's chevron and Betty Martin panels gansey
Sheringham
1900 (c)
GP59
Sheringham fisherman #8 Old Charlie Grice's big diamonds gansey
Sheringham
1900 (c)
GP60
Sheringham fisherman #9 Rook Reynolds net mask gansey
Sheringham
1900 (c)
GP61
Sheringham fisherman #10 Jacob Martins' net mask and herringbone gansey
Sheringham
1900 (c)
GP62
Sheringham fisherman #11 "Chicken" Grice's gansey
Sheringham
1900 (c)
GP63
Sheringham fisherman #12 "King Kong" Grice's gansey
Sheringham
1900 (c)
GP65
Willie Long's diagonal bars and Betty Martin gansey
Sheringham
1910 (c)
GP66
Sheringham fisherman's meshes and Betty Martin gansey
Sheringham
1900-1910 (c)
GP68
Robert "Dowsey" Little's gansey
Sheringham
1900-1910 (c)