Field Guide to the Geology of North Norfolk
Briton's Lane
Access:
Location off Briton's Lane, Beeston Regis (TG 167515). This is a commercial working pit and no access is allowed without permission (which is not usually forthcoming). The owners are Carter Concrete.
Parking:
At the site office, with permission only.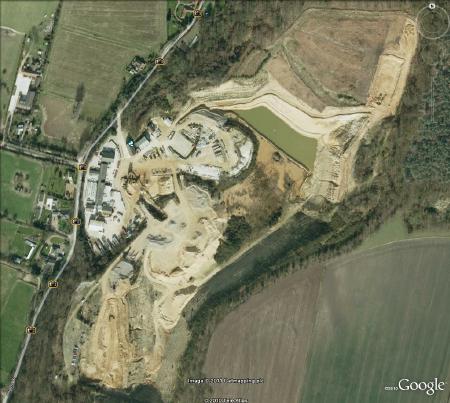 Geological features
In this pit we see a thick accumulation of sands and gravels that were laid down at the top of the Cromer Ridge during the Anglian Glaciation. The tills are generally below the level of the pit or forming the floor of the deepest part of the excavations. The gravels immediately below ground at the south of the pit were observed to be coarse, sharp and unsorted, with coarse sand matrix and lenses of sand. Of the large clasts, flint predominates but with erratics of dolerite, schist, porphyry, quartzite, sandstone and box stones. Banham (1968) classifies these sediments as belonging to the Gimingham Sands (below) and the Brick Kiln Dales Gravels (on top).
Interpretation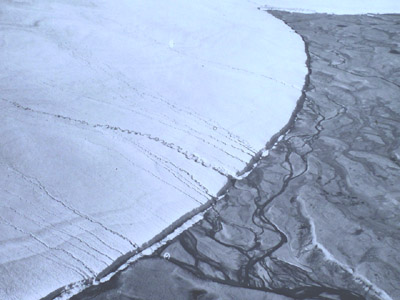 One can imagine the scene in the Anglian Glaciation, when North Norfolk resembled the edge of the modern Greenland icesheet. The glacier stretched away to the north and over the horizon ; a sea of ice in place of the modern North Sea. The very edge of the icesheet probably rose only a little higher than the ridge itself, with a ragged, lobate ice-cliff but thickened northwards to a depth of about 1 kilometre. At the edge of the ice, where the Cromer Ridge is today, numerous meltwater streams running in crevasses and ice-tunnels would be discharging sediment-laden water off the ice and onto a plain, known as a sandur plain, with numerous braided channels choked with sand, gravel and boulders. Sedimentation was rapid and from time to time the water currents were torrential. Periodically the icesheet would surge forward and ride up the northern edge of the ridge. This motion, with enormous force, would cause sheets of sediment to be dislodged pro-glacially and thrusted forward and up the ramp, adding to the sediment accumulation and heightening the ridge. More stream sedimentation filled in the hollows and smoothed out the contours of the ridge and the sandur stretches southwards, with streams eventually coalescing and becoming the proto-streams of the drainage pattern we know today draining into the Bure and the upper reaches of the River Ant and eventually discharging into the North Sea.
Compiled by Martin Warren. Last updated 14.1.2011